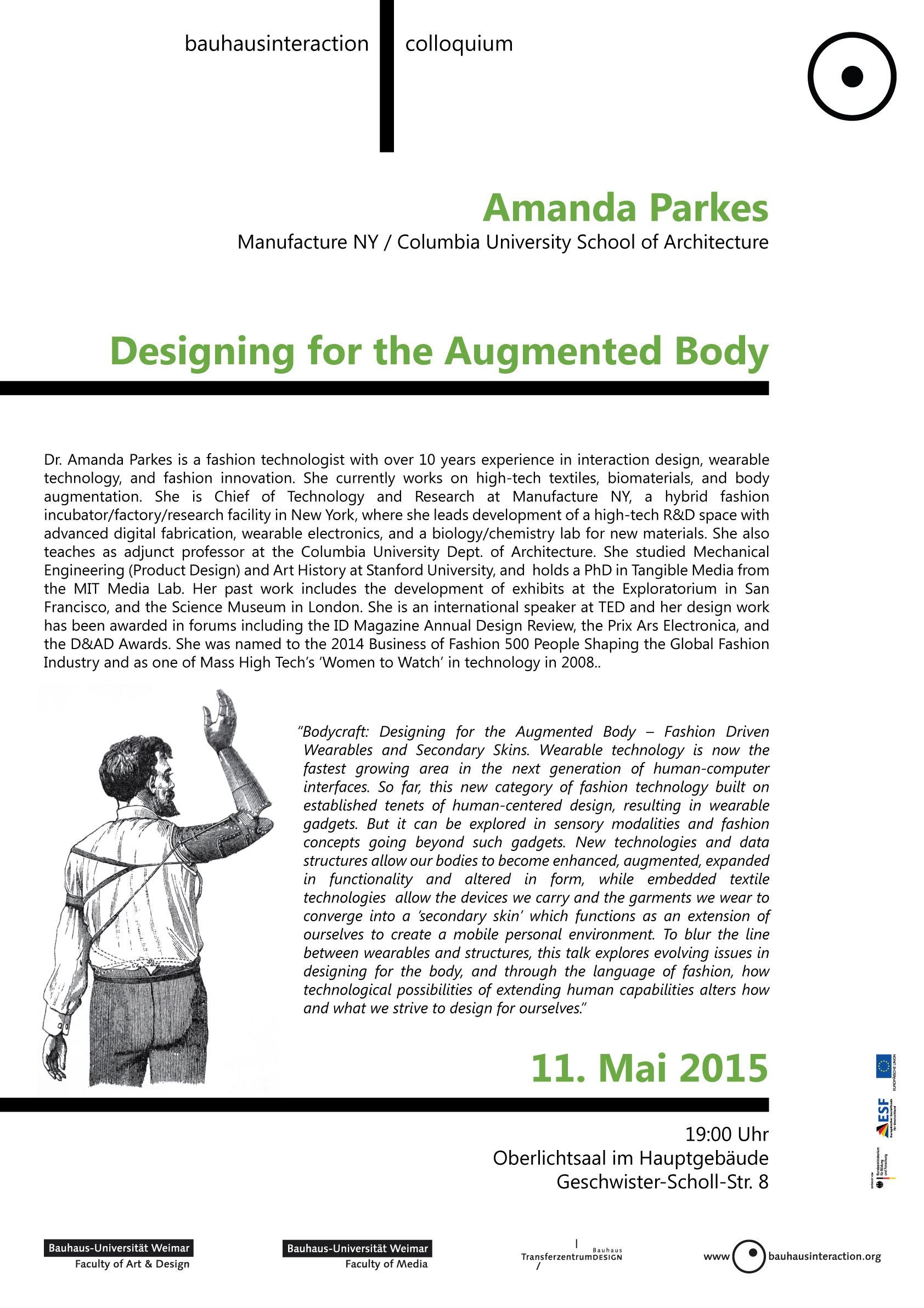 Dr. Amanda Parkes is a fashion technologist with over 10 years experience in interaction design, wearable technology, and fashion innovation. She currently works on high-tech textiles, biomaterials, and body augmentation. She is Chief of Technology and Research at Manufacture NY, a hybrid fashion incubator/factory/research facility in New York, where she leads development of a high-tech R&D space with advanced digital fabrication, wearable electronics, and a biology/chemistry lab for new materials. She also teaches as adjunct professor at the Columbia University Dept. of Architecture. She studied Mechanical Engineering (Product Design) and Art History at Stanford University, and  holds a PhD in Tangible Media from the MIT Media Lab. Her past work includes the development of exhibits at the Exploratorium in San Francisco, and the Science Museum in London. She is an international speaker at TED and her design work has been awarded in forums including the ID Magazine Annual Design Review, the Prix Ars Electronica, and the D&AD Awards. She was named to the 2014 Business of Fashion 500 People Shaping the Global Fashion Industry and as one of Mass High Tech's 'Women to Watch' in technology in 2008.
"Wearable technology is now the fastest growing area in the next generation of human-computer interfaces. So far, this new category of fashion technology built on established tenets of human‐centered design, resulting in wearable gadgets. But it can be explored in sensory modalities and fashion concepts going beyond such gadgets. New technologies and data structures allow our bodies to become enhanced, augmented, expanded in functionality and altered in form, while embedded textile technologies  allow the devices we carry and the garments we wear to converge into a 'secondary skin' which functions as an extension of ourselves to create a mobile personal environment. To blur the line between wearables and structures, this talk explores evolving issues in designing for the body, and through the language of fashion, how technological possibilities of extending human capabilities alters how and what we strive to design for ourselves."
Amanda Parkes / CTO, Manufacture NY / Columbia University School of Architecture
Bodycraft: Designing for the Augmented Body – Fashion Driven Wearables and Secondary Skins
Talk: Monday, May 11th 2015 / 19:00
Oberlichtsaal / Hauptgebäude
Geschwister-Scholl-Str. 8
99423 Weimar
This talk is part of the Bauhausinteraction Colloquium.